Frostglen has been breeding alpacas since 1990 and continues to be committed to providing luxury fiber from the world's finest livestock investment.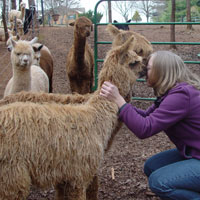 Alpacas are intelligent, clean, quiet, and easily managed on small acreage. They are the result of 6000 years of breeding by the Incas of South America to provide a fiber that is lustrous, strong and wonderfully soft to the hand.
Alpacas come in an incredibly wide range of colors from pure white, to jet black, browns, fawns, reddish brown and a range of greys from light to steel grey.
Frostglen has both huacaya and suri alpacas and provides breeding stock in individual purchases or multiple packages, stud services, and consultation on genetics, pastures, husbandry, shearing and fiber.
Our farm is located in beautiful East Tennessee, just a convenient 3 miles off Interstate 75 and welcomes visitors year round. Get directions here.
Alpacas for Sale
Frostglen offers alpacas in a full spectrum of colors and a range of ages and types. Our focus has been on breeding alpacas with fiber that is soft and buttery to handle and very fine. More...
Breeding Males
The success of any livestock breeding program is based on its ability to identify the most important characteristic that that particular livestock has and in selecting animals to breed to that goal. More...